Group Substance Abuse Treatment
Our group therapy model is focused on encouraging individuals to build relationships with those experiencing similar struggles in substance abuse treatment. We have found that peer support and understanding is an effective way to establish a recovery network. Isolation can be one of the biggest challenges we face in recovery. Sometimes family and friends want to help, but do not understand what we are going through, so it is important to spend time in environments with people who do understand. Realizing that others are sharing our battles can be liberating and uniquely accommodating. Peer feedback, camaraderie, and mutual encouragement are a few of the things you can expect to experience with our compassionate and licensed counselors and other patients in our group substance abuse treatment sessions.
Peer Therapy & Accountability
What is Considered a Therapeutic Group?
No matter our age, race, class, religion, or gender, people from all walks of life can suffer from substance abuse and mental health issues. Any odd assortment of people can be a therapeutic group when someone forms emotional attachments to the group as a whole or other group members/the group leader. These attachments give the group the potential to influence and change the individual for the better. Although many different types of groups can be said to have therapeutic effects, there are five main types or models utilized in group substance abuse treatment. These models have two criteria: (1) having trained leaders and (2) the intent to facilitate healing or recovery from substance abuse.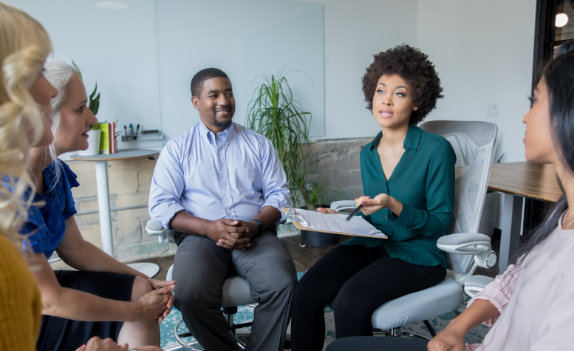 Dual Diagnosis
Some addicts first begin abusing substances to cope with mental illness, such as depression, bipolar disorder, anxiety, or others. Co-occurring disorders or dual diagnosis is more common than some may realize, with around 50% of individuals with severe mental disorders and 29% of all people diagnosed as mentally ill also affected by substance abuse disorder. On the flip side, 37% of alcohol abusers and 53% of drug abusers also had at least one serious mental illness. Recovering from a substance abuse disorder is already difficult, but individuals with a dual diagnosis have an especially difficult struggle ahead of them. Both disorders can have their own symptoms that interfere with various areas of our lives, as well as each other — should one problem go untreated, the other may get worse. However, this does not mean that recovery is impossible, only that you need the right support to combat your dual diagnosis.
Type of Group Therapy
There are five main types of group treatment models used by group substance abuse treatment professionals to meet the needs of patients, defined by a combination of their group goals and methodology for the recovery process.
Psychoeducation Groups
These groups are meant to educate patients about substance abuse and increase their awareness of its consequences. It typically accomplishes this through structured content taught through lectures, discussions, recordings, and so on, from an experienced group leader. As some people may have previous unpleasant experiences in a classroom learning setting, care is emphasized in creating an environment that accommodates different learning styles and encourages participation from all members.
Skill Development Groups
The most common type of skill development group is the coping skills training group, which has a goal of developing the skills patients need to achieve and maintain abstinence. These groups come from a cognitive-behavioral approach that acknowledges that people with substance use disorders may lack needed life skills either as a result of their disorder or the reason they turned to using in the first place. Consequently, developing these skills is essential for recovery, and group therapy provides a natural setting for practicing interpersonal skills.
Interpersonal Process Groups
Interpersonal process group psychotherapy uses psychodynamics, the psychology of mental or emotional processes and how they affect behavior and mental states, in order to address substance abuse problems. This is the most rarely-used type of group, as it requires a long-time commitment from the patients and extensive training for the leaders.
Cognitive Behavioral & Problem Solving Groups
These groups encompass a wide range of formats, with their commonality being the use of cognitive restructuring as the basis for change. They approach dependency as a learned behavior that can be changed by changing thinking patterns, beliefs, and perceptions. These types of groups are particularly suitable for the early stages of recovery.
Support Groups
Support groups lean heavily on the importance of self-help. They recognize that the long-term goal of recovery is significant lifestyle change and that having a support group can help individuals achieve it. Support groups have tenets of unconditional acceptance, inward reflection, honest interpersonal interaction, and commitment to change — where members help each other with their concerns about abstinence and day-to-day living.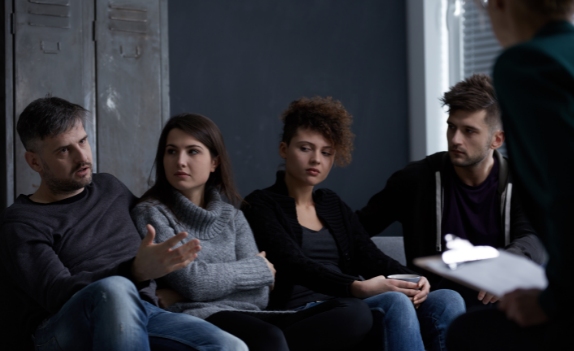 Enablement
While well-meaning, certain behaviors exhibited by the people around us can enable our addiction. There are people that choose to pretend the problem doesn't exist, denying the facts in front of them in favor of believing that their loved one is doing well. There are people that try to be considerate by prioritizing the needs of the user and offering them financial support, unaware that they are only adding to the problem by providing them an easy environment for continuing their addiction. These damaging behaviors can be avoided in group therapy, where fellow group members will likely have experienced the same struggles with the people around them and thus desire to avoid them.
Substance Abuse Group Therapy
The road to recovery is a long one, but talk therapy in a group setting can be helpful for individuals with substance abuse problems. Rather than struggling with addiction on your own, a group helps challenge and support you. Group leaders and counselors can help guide conversations and identify action plans for healthier living, better coping mechanisms, and expression. Using drugs is an underlying issue and symptom of substance abuse, so it is important to treat the root cause.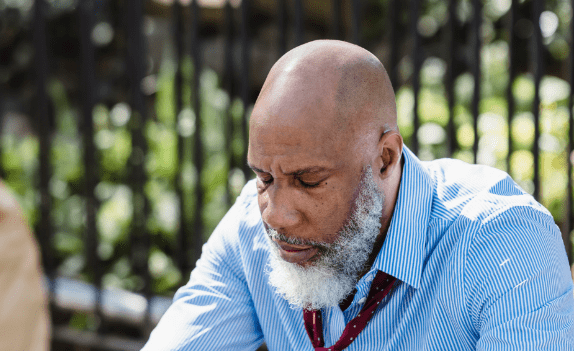 How To Get the Most Out of Substance Abuse Group Therapy
Things you should do in group therapy:
DO: Be honest and open when talking about your experiences and struggles.
DO: Be accepting of new perspectives and ways of thinking.
DO: Listen closely when other members share their stories.
DO: Give your support freely when other members need it.
DO: Allow for self-reflection on how you feel and think during sessions.
DO: Apply what you learn in sessions to other areas of your life.
Things you shouldn't do in group therapy:
DON'T: Disrespect other members by talking over or interrupting them when they are speaking.
DON'T: Dismiss the feelings and struggles of other members, even if they don't align with your own belief system.
DON'T: Share any information, especially detailed personal information, about a group member to someone outside of the group.
Substance abuse is a problem that impacts millions of lives. It negatively affects our moods, emotions, physical health, mental health, environment, and even our loved ones. Because of how it affects the brain's normal functions, it can be difficult to break free from the cycle of repeated use even when we see the harmful consequences to ourselves and everyone that cares about us.
One method that has been effective in the treatment of substance abuse disorders is group therapy. While most may be wary of the idea of confiding in a group of strangers at first, it can be a powerful tool for overcoming addiction — by connecting with people that are going through similar struggles, realizing that we are not alone in the battles we face, and finding a safe space for vulnerability.
Advantages of Group Therapy
Group therapy has many proven benefits, especially for substance abuse disorders. It provides an effective complement to other components of addiction treatment such as individual therapy, family therapy, and others. Here are some offered advantages of substance abuse group therapy.
It gives you a safety net.
It helps you find your voice.
It gives you a sense of solidarity.
It helps you feel connected.
It reduces your sense of isolation and shame.
It gives you routine, structure, and discipline.
It lets you relearn social skills and improve your communication skills.
It helps you learn healthy coping skills from peers.
It gives you a broader range of feedback
It gives you the ability to witness others' recovery.
It instills hope.
If you're ready to take the first step towards recovery from substance abuse and begin a happier and healthier life, start your substance abuse therapy, dual diagnosis therapy, or group substance abuse counseling session with us at Rego Park Counseling today. We are dedicated to helping patients get the most out of their recovery experience. Contact our outpatient clinic today and see the difference we can make for you and your loved ones.